Today, we can announce that our team has successfully passed the audit for the ISO 13485:2012 Medical Devices. You can check our official certification on SGS' website (look for UgenTec & choose Belgium as a country).
The certificate was granted UgenTec for "design, development, manufacturing, installation, and service of in-vitro diagnostic software for analysis and interpretation of real-time PCR data." Besides the ISO 13485 we have also implemented the harmonized standard IEC:62304 Software for medical devices:
Importance of applying the quality management system (QMS) the way the organization works
Despite the requirement for a quality manual and documented procedures, a quality system is more than just a lot of documents. A good QMS is a system that works and is made to fit the size & activities of an organization. It's of vital importance that procedures are not deployed top-down. Our QMS works because the team supports the system, even though it's not always the easiest way.
Training and supervision of staff
We are convinced that continuous learning & education of our people is vital to our company success. Everyone has an annual education budget which he/she can spend freely to follow the courses of their choice. Well trained and educated people result in a high product quality.
Risk management is required at all stages of product development
Safety of medical devices and their software gain importance every day. Risk Management is an important tool for the creation of a safe product. It must be integrated into the QMS during development, manufacturing and post-market follow up.
We've combined all the steps of ISO 14971: risk analysis for medical devices within our scrum based way of working. Developers, product managers & molecular biologists all sit down regularly to mitigate risks. Because of this multidisciplinary approach, risks are reduced from different perspectives, which makes it a very complete and safe system.
Sharp focus on customer requirements
One of our core strengths: customer interaction and attention to the usability of the software. From the start, we've focussed on a safe and user-friendly product specifically designed to automate PCR analysis, simple and powerful. We continuously offer our customers beta versions, this way they can test functionality & performance and provide us with valuable feedback. We encourage this feedback, we believe it makes FastFinder a better product.
Aligning a scrum organized team with a regulated QMS
Although the two are often seen as polar opposites, there are some strong resemblances which can work synergistically. Every good QMS relies on a Plan-Do-Check-Act (PDCA) cycle. In our product design, we do a sprint planning (P), sprint (D), retrospective (C) & continuous improvement based on the retrospective (A).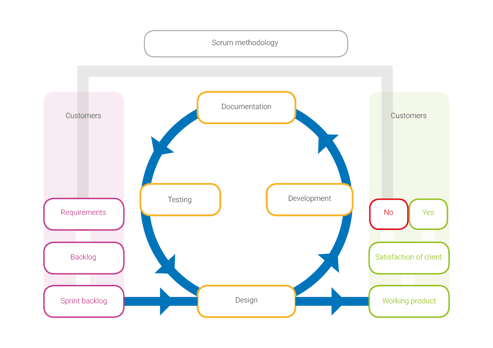 If you look at the elements scrum encompasses, and compare those to the elements of a QMS, you can immediately notice a strong resemblance.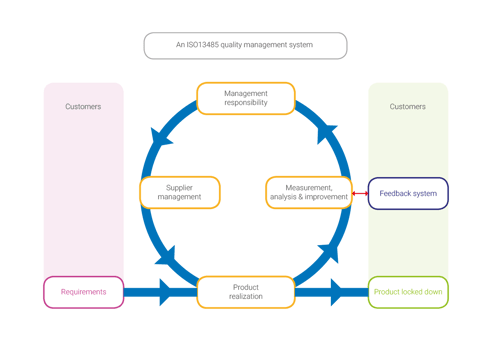 How have we aligned these seemingly opposite methods? Quality management systems seem synonymous with heavy documentation workload and the scrum methodology is an excuse for lacking documentation. We have combined software to engineer a system that fits our needs.
With the combination of Atlassian's © Jira and MatrixReq © we have created an efficient & lightweight documentation workflow, compliant to all the strict regulations. Atlassian's Jira © to manage sprint- and release planning and MatrixReq © for documenting requirements/ specifications. Because both products integrate with each other, full traceability is obtained, start at user requirement all the way to final coding & testing.
Read the official press release here: http://bit.ly/ISO-13485.
Read the article in GenomeWeb.